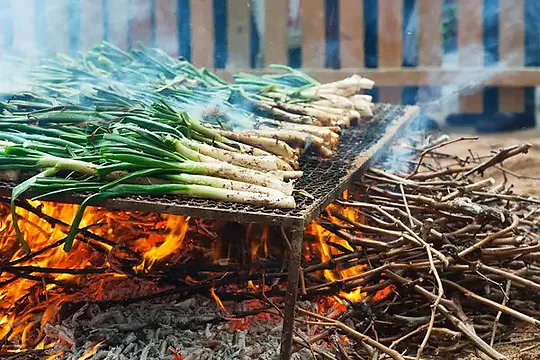 Socks time
Now is the time! The calçots season has started in Catalonia. This year the forecasts are more than optimistic both in quality and quantity. It is expected to have a harvest of 20 million calçots.
The calçotada has become a folk festival that brings together groups of families, friends, coworkers, etc. and usually lasts from January to March.
The calçotada is a typical food of Catalonia. Its origin is attributed to the city of Valls, in the Tarragona region, but thanks to its character as a community food it has been spreading, and is currently enjoyed throughout Catalonia. The season is restricted to the months in which calçot, its main ingredient, can be harvested from late winter to mid-spring.
The most traditional and common way of cooking calçots is grilled. A flame is lit with vine shoots, the calçots are put on the grill with all the roots on the same side and placed on top of the flames, and they should end up toasted on both sides.
When they are cooked, they are wrapped in newspaper, which will help keep them warm and finish cooking.
They are consumed with the hands, peeling off the charred layer and submerging each calçot in a special sauce, salvitxada, similar to romesco sauce. This makes blackening and staining almost unavoidable. They are ready to enjoy them!